You can add subscribers easly from contacts page.
If you want to add a contact manually, just click "Add Contact". In order to add a contact you must have their phone number and their first/last name. The rest of the info is optional.
From AddContact Page, you can select (optional) group if you like to add a new contact to a particular group.
Also if you have a list of contacts already then you can can import a list of contacts simply by clicking IMPORT button.
You can import contacts using a CSV or Excel spreadsheet (xlsx). It's required that you have express consent from all of your subscribers before you message them.
Click the Import button, and select your file.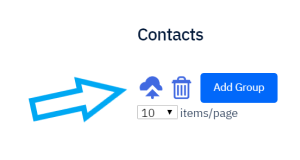 It's critical that you set up your file with a correct column name which is firstname, lastname, email, and phone. Please free to download contact list sample CSV file here.
The columns have to be formatted correctly in order for the member to be imported successfully. Use the following columns: firstname, lastname, email, phone. To make sure you use the correct column name for the provider please free free to download the contact list sample CSV from here.
Edit your list in the csv file and upload the updated CSV file.
Click import, and you're done!
And go back to your contact list by clicking all contacts to see if the newly imported contact shows up.
Was This Article Helpful?
---